Experienced Professionals
Meet our team of passionate, dedicated veterinarians who will be caring for your animals.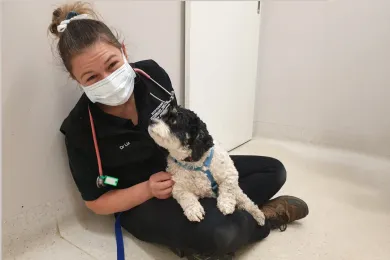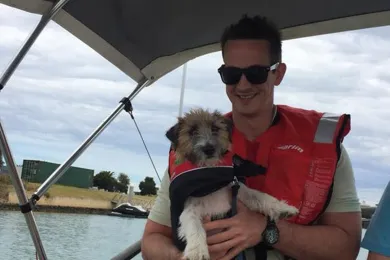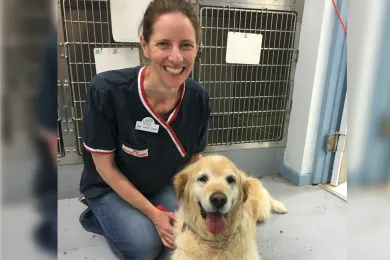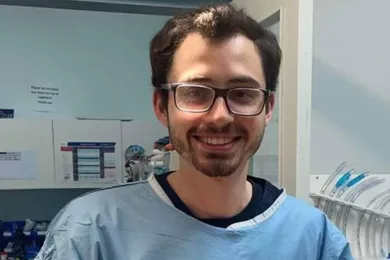 Veterinary Surgeon & Practice Principal
Dr. Elizabeth Curnick
Dr. Elizabeth Curnick, BVSc (Hons) MANZCVS (Equine Medicine)
Since graduating from the University of Melbourne, Dr Liz has spent time working within both Australia and the United Kingdom, particularly enjoying her time spent in Northern Ireland and Scotland.  Dr Liz joined the team at Maryborough Veterinary Practice in 2014. Liz has undertaken additional training in small animal surgery & equine medicine, which included successfully undertaking the examinations to gain membership to the Australian & New Zealand College of Veterinary Scientists. In 2019 Dr. Liz along with her friend Dr. James accepted an offer to purchase the Practice and today leads a fantastic team dedicated to improving the lives of their patients.
When not at work, you can often find Dr Liz out exploring the local bush on her horses, Squeak and Catrina, on the water at Cairn Curran or spending time with her kelpie Rudy and family cats Sophie and Em.
Veterinary Surgeon & Practice Principal
Dr. James Chadwick
BVetBiol/BVetSc, MANZCVS (Small Animal Surgery)
After graduating from Charles Sturt University in NSW, James commenced general practice at a busy clinic in Bendigo, and found himself working alongside Dr Liz, a friendship that would see them unite a decade later to run the practice. Dr James has undertaken significant post graduate training in ultrasonography and small animal surgery, of which he has been the recipient of training from some of the top surgical specialists in Australia. Dr James' successful completed his examination to gain membership to the Australian & New Zealand College of Veterinary Scientists, Surgery Chapter.
Dr James has a passion for health and fitness, as well as spending time with his wife Candice and Jack Russell Terrier Billy.
Veterinary Surgeon
Dr. Kate Cain
Since graduating from University of Queensland in 2003, Kate has worked as a mixed practice vet (both large and companion animals) in multiple locations across South Australia, Victoria and the Northern Territory. She also took her veterinary skills overseas on a six month working holiday in the United Kingdom!
Kate joined the team at Maryborough Veterinary Practice in February 2016. Over her many years of veterinary practice, Kate has developed a strong interest in small animal (cats & dogs) medicine, with a particular interest in diabetic management and small animal dentistry. Kate has undertaken several years of additional post graduate study in small animal medicine.
Outside of work, Kate is a mother to twins, and enjoys taking part in triathlons, playing tennis & painting.
Veterinary Surgeon
Dr Amber Evans
Amber grew up in Warrnambool and with her family owning a boarding kennel she has always been around animals.  Amber studied Animal and Veterinary Bioscience at LaTrobe University, and then completed Doctor of Veterinary Medicine at The University of Melbourne, graduating in 2018. Amber joined Maryborough Veterinary Practice in December 2018.  She particularly enjoys soft tissue surgery and medicine.
Amber lives with her partner Michael, her pet greyhound Taff, and cats Ari and Evie. Having grown up on the coast she enjoys the beach on weekends off.
Veterinary Surgeon
Dr Luke Murdock
Luke hails from Perth, Western Australia, where he studied two years of Animal Science and Japanese before being accepted into the Doctor of Veterinary Medicine program at Murdoch University. Luke graduated in 2021 and decided to make the move over to Victoria. His veterinary interests lie in surgery and medicine. Luke has 2 cats of his own (yet to be named!) with which he enjoys kicking back and relaxing on his days off.
The Practice is a mix of original late 1800's period (facing High St) and purpose-built extension (from the Alma Street entrance.)
The building currently consists of 3 consultation rooms, a sterile surgery, non-sterile surgery, treatment area and hospital, small animal dispensary, large animal dispensary, administration offices, pathology room (for blood testing and microscope work), Isolation room (for animals with infectious conditions), Radiology area (for x-rays and ultrasounds) and puppy school room.