Orthopaedic (bone) surgery
and cruciate surgery (TPLO)
Dr James Chadwick has undertaken extra training in small animal surgery and a is member, by examination, of the is Small Animal Surgery chapter of the Australian & New Zealand College of Veterinary Scientists. He has a large amount of experience in orthopaedic surgery which includes: fracture (broken bone) repair, arthrodesis (joint fusion) ligament and tendon repair. Sometimes patients will travel from neighbouring towns for repair of their fractures and injuries.
Fractures (broken bones)
The clinic is equipped with a full range of orthopaedic repair equipment (including pins, external fixatures and locking plates). Many of these implants are actually the same as used in humans! Each fracture and animal is assessed individually, and a plan is tailored to them. Most commonly a combination of screws, plates and/or pins are placed under the skin.
Example of a humerus fracture repaired with a plate, screws and a pin (plate-rod).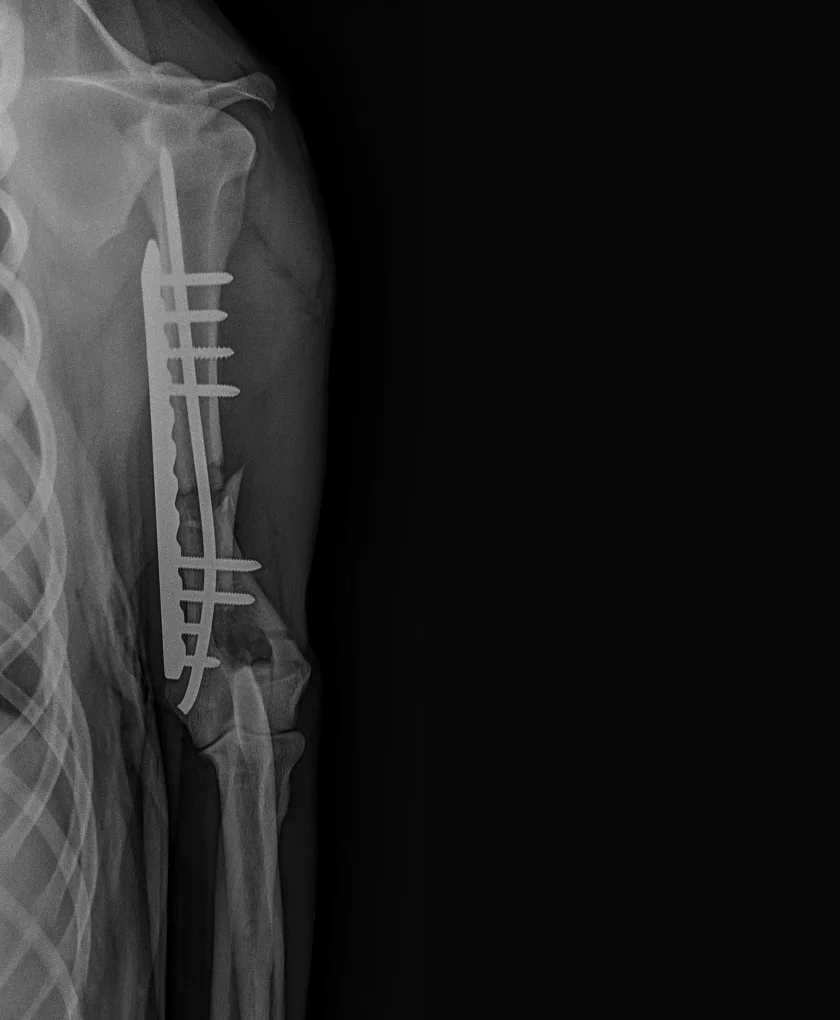 Example of a radius and ulna fracture in a large breed dog repaired with dual plates and screws.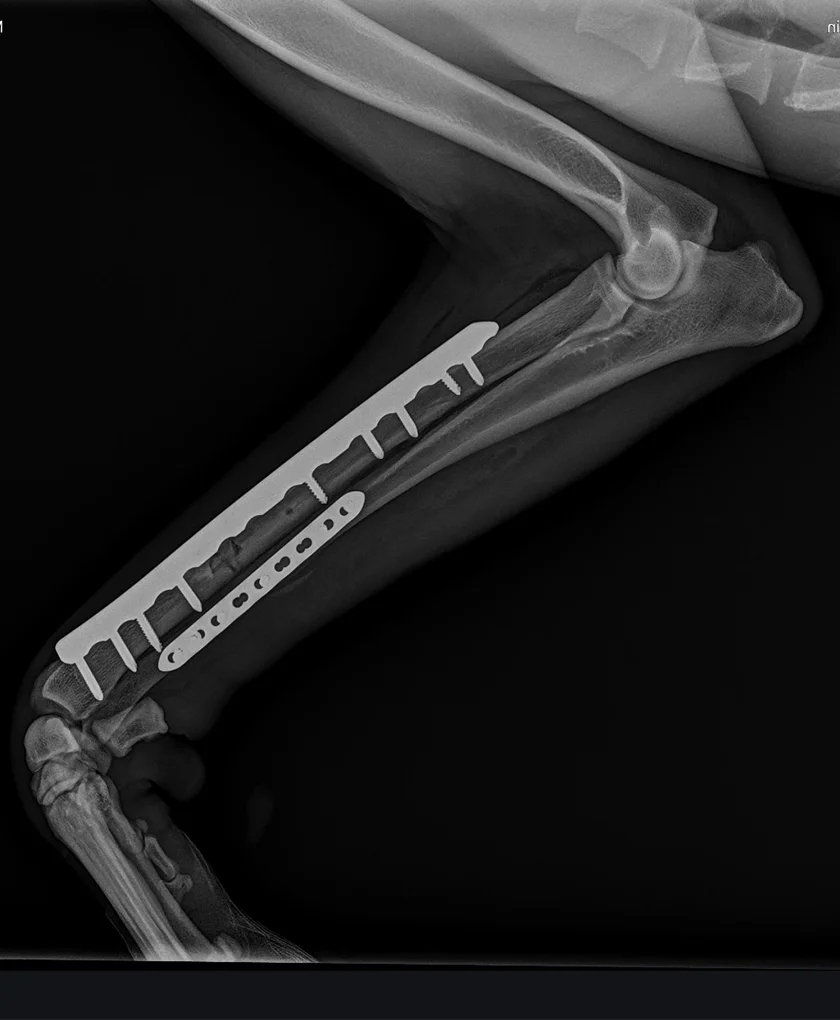 Arthrodesis (joint fusion)
Occasionally, the damage to a joint is so severe repair is no longer an option. In these cases the best option for the animal is to actually fuse the joint. While this does sound extreme, depending on the joint involve they can often return to near normal function (returning to work or park zoomies depending on the patient!). Arthrodesis is the process of removing the cartilage in the joint, placing bone graft then stabilising the joint with a plate(s) and screws.
Example of pancarpal arthrodesis.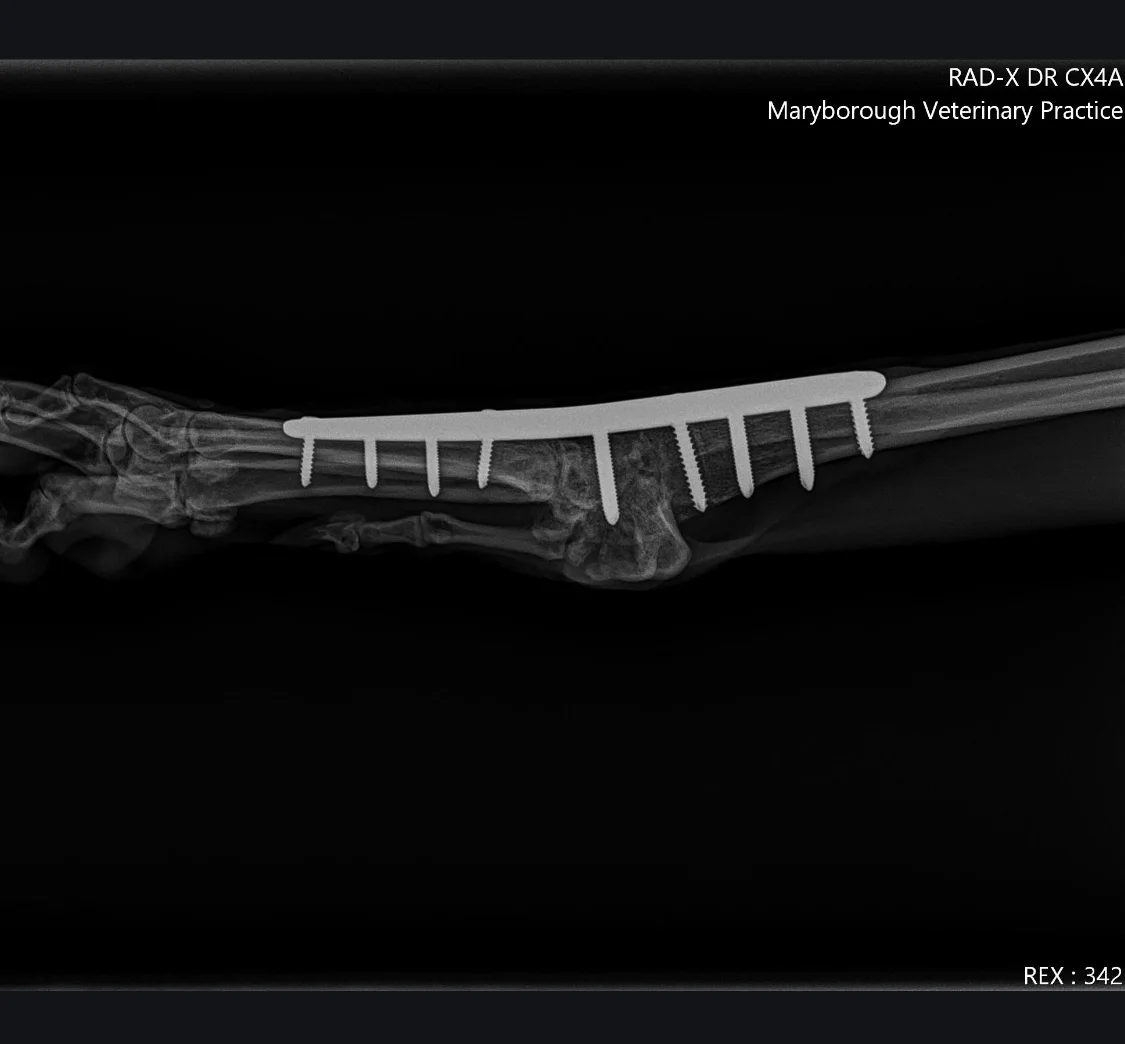 Example of pantarsal arthrodesis.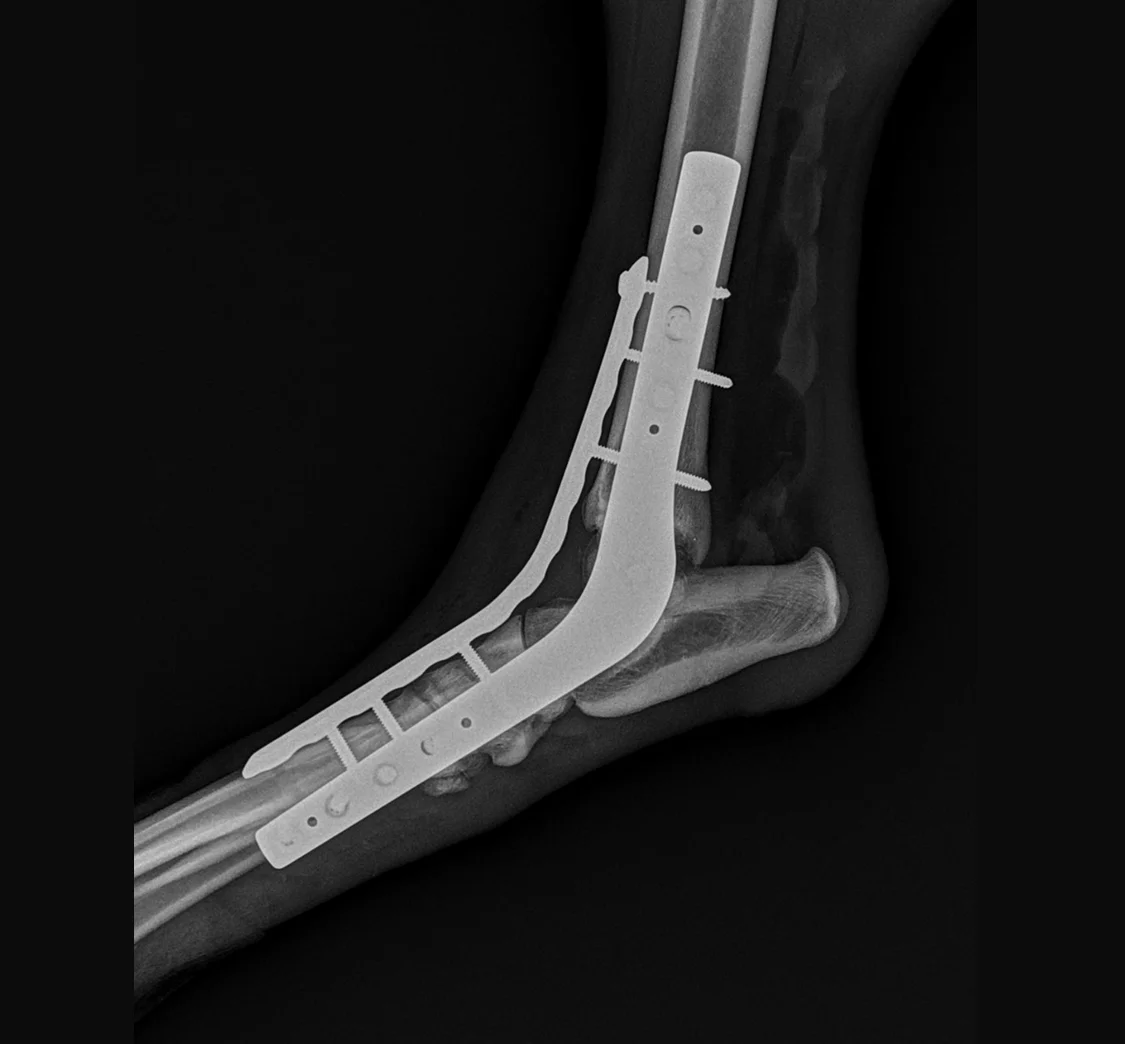 Cruciate surgery (TPLO)
Unfortunately, it is very common in dogs to rupture their cranial cruciate ligament (which is similar to the ACL in humans). The clinic is able to offer a number of treatment options including conservative, braces, extra capsular repair, TPLO and CBLO. A consultation can be booked to discuss the different options available for your dog (or cat).
Tibial plateau levelling osteotomy (TPLO)
TPLO was a surgery developed over 30 years ago. While there are many other surgeries have been developed since then, TPLO has consistently been shown to have the best outcomes and least complications. Dr James has performed this surgery several hundred times over the years, using high quality locking implants.
TPLO surgery involves cutting the bone and rotating it, this reduces the angle of the top of the tibia, which neutralises the force that would normally be stabilised by the ruptured ligament. The bone is then held in place with a special locking plate and screws to allow it to heal.
This is an x-ray after surgery, showing the semi-circular cut in the bone, metal plate (white) and "flat" tibial plateau.
An example of a more complex surgery which corrected both a cruciate rupture and simultaneous patella (knee cap) luxation. In this case the bone was cut in two places, corrected, then stabilised with a plate, screws, pins and wire. Fortunately, it is quite rare for a dog to need this much surgery!